Art and Music sometime are so close .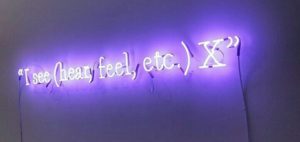 Ode to the five senses in a neon written artwork and ode to the senses in a concept album that made history.
"See Me
Feel Me
Touch Me
Heal Me
Listening to you, I get the music
Gazing at you, I get the heat"
(Tommy, the Who)
Art is a burglar of souls : it open the door of perception .
From William Blake to rock and roll there is not a frightening distance.
Please follow and like us: